If you're going to Tagaytay, then be sure you go to Bag of Beans. Forget Starbucks and other coffee shops that also have branches in the city – if you want coffee, this is definitely one of the best places to be.
Bag of Beans is a coffee shop and bakery located along Aguinaldo Highway near Mendez Crossing West in Tagaytay City. Going there is fairly easy, just look for this sign.
Their menu offers a wide variety of items including pasta, pies, breads and desserts. Meanwhile their drink menu is also as varied as their food items.
But if you're planning to hang out there with friends, then maybe you'd dare try their bottomless Freshly Brewed Baraco for only P105.
And what do you get to go along with your coffee? Personally I prefer the Blueberry Cheesecake.
Then after you get a refill of coffee, get an Apple Pie Ala Mode.
Don't worry about the sugar rush, the coffee is strong enough to keep you awake for your final dessert, another cheesecake slice but this time, it's going to be strawberries on top.
Three desserts, bottomless coffee, good friends, good conversation – ingredients to a perfect afternoon in Tagaytay… courtesy of Bag of Beans.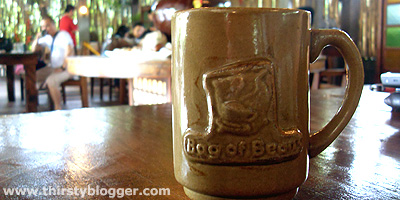 Learn more about Bag of Beans Tagaytay in their website here.