Located on the fifth floor of The Podium Mall in Ortigas, is this Filipino cuisine restaurant named Cafe de Bonifacio.
I was privileged early this week to sample some of their dishes and likewise taste their unique and tasty specialty drinks, which I'd now like to share with you.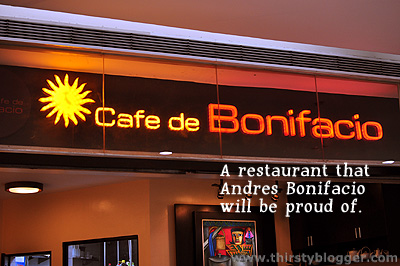 At first, you'd get the impression that they're a Filipino-Asian fusion restaurant. But managing director, Alfredo Wenceslao says that they don't really look at their menu that way.
With the tagline, "revolutionizing Filipino cuisine" – they're taking the Filipino dishes we all love and presenting them to their customers in a new way, by changing how they're commonly served, and by using uncommon ingredients – thus making their food different, yet still familiar.
Just take that lumpiang hubad above, they serve it plated on a crispy open pastry cup. So tasty I could twenty of these in one sitting.
I don't really care for green mango shakes, but the one they have there comes infused with fresh basil leaves – which made it interesting and delicious for me.
Cafe de Bonifacio offers a lot of our favorite Filipino dishes such as the "Crispy Pata ni Ka Ojie" above. They also have revolutionized vigan longganisa (which comes as a pasta dish), adodo (served inside a roti bread), fried tilapia (butterflied with tamarind sauce), herbed sisig and many more.
Below is their ensaladang talong… where else can you see that dish served this way, right?
And to end the army of delicious Filipino food that was served to us, I opted to end it with this Ginumis. It's basically a sago and gulaman drink in coconut cream – this one's really, really good!
Learn more about Cafe de Bonifacio over through their Facebook Page or visit their website at www.cafedebonifacio.com.
Or you can just pay them a visit at Level 5 at The Podium, Ortigas Center, Pasig. They're open Mondays to Sundays, from 11:00 am to 9:30 pm.