I'm a metro south citizen, and I consider Muntinlupa, Paranaque and Las Pinas – my backyard.
And with two branches in my area, Empanada MAS is a familiar face already. In fact, they're one of my go-to places whenever I need a quick bite.
The branch that I frequent often is the one inside Makati Supermarket in Alabang Town Center. Their empanadas are my favorite to have before doing grocery.
Recently, I was at ATC to catch a movie. I decided to buy Empanada MAS instead of popcorn because I had an early dinner and was already feeling a bit hungry.
I passed by around 8:00 PM and I saw that their trays are almost empty – proof that it's not only me who likes their empanadas here.
Empanada MAS offers several varieties of savory empanadas. They also have empanaditas, which are bite-sized empanadas, that also have fillings inside.
Aside from the Classic Chicken and Classic Pork empanadas, they also offer Spanish-style Chorizo, Ham and Cheese Jalapeno, and Spinach with Cream Cheese Dressing as varieties.
Meanwhile, for their empanaditas, they have Cheddar Cheese, Semi-sweet Chocolate, Peanut Butter Fudge, Cream Cheese and Chives, and for a limited time – Nutella Ferrero.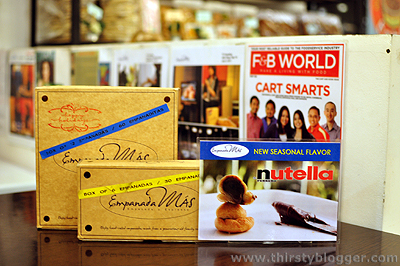 Aside from the one in Makati Supermarket in Alabang Town Center; they also have an outlet at The Pergola Mall (Robinsons Supermarket) in BF Homes, Paranaque.
They have two stores in Makati, one at the Food Park, 4/F of The Enterprise Center, beside NYC Coffee; and inside Cash & Carry Supermarket in Palanan, Makati City.
Their branch in Cash & Carry serves Espresso-based Coffee To-go drinks. You can buy from them 100% Premium Arabica Coffee beans too, so you can enjoy a cup of brewed coffee goodness at home.
To learn more about Empanada MAS, you can visit their Facebook Page, www.facebook.com/empanadaMAS or their Multiply Page, www.empanadamas.multiply.com