One thing I miss as a student in UP Diliman is eating fishball and isaw with classmates inside the campus. Yesterday, I was able to reminisce those times, with some of my blogger friends.
And whenever I eat at these stalls, my choice of beverage has always been fresh buko juice.
You can find them almost everywhere inside UP Diliman, just outside college buildings, but specially near dormitories. These isawan areas typically look like this:
Isaw lovers typically flock these places during early afternoons, so always go with friends so you have people to chat with while waiting for your turn.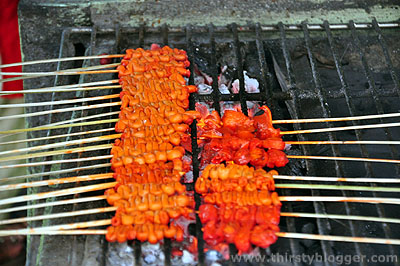 If you don't eat isaw, then you can just have the fish ball, squid ball, tukneneng or the many other street food being offered there.
These stalls are regulated by a University cooperative so you know they're clean and safe to eat.
And in my opinion, the best way to wash down all these food down is… I know you know it – fresh buko juice!
Please "Like" and Share on Facebook below if you're here because of iBlog 7. Woot!