It's been almost a year since I last ate at Melo's – it was a memorable one for it was when I first tasted the difference between Angus and Wagyu beef.
Wanting to relive that authentic Wagyu experience, I had no hesitations accepting my friend's invitation to have an all-out dinner meal at Melo's a few weeks ago.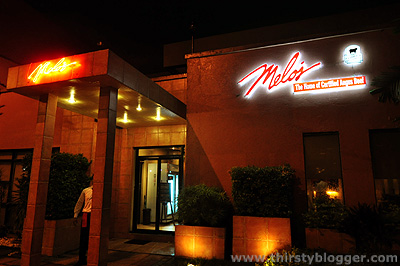 This time, we dined at Melo's in Westgate, Filinvest, Alabang. It will be quite a long drive if you're not from the southern part of the metro, but for Melo's – it will definitely be worth it.
Things started off nice and easy with some mushroom soup and bread. But then this plate of Oyster Rockefeller came out and everything that night just went sky up.
The oysters are baked with hollandaise sauce and topped with mozzarella, parmesan cheese and bacon! It's quite an inspired plate and I've never tasted oysters this good.
We were then served this Foie Gras Balsamico. It has been seared in a balsamic reduction and comes with raisins, grapes, raspberries, caramelized onions and a croquette. I found this complex and delectable.
For my main, I ordered the Filetto Tartufato. It's a grade 8 fillet mignon wagyu with pan-seared foie gras and truffle oil sauce. This one's heaven on a plate!
The Filetto Tartufato is part of their Chef's Special Menu. Other items on this special offering are the Tenderloin Wagyu with morel mushroom and Cabarnet-toasted garlic sauce and the Tenderloin Wagyu Foie Gras with red wine cranberry sauce on truffle oil mashed potato.
To end the meal, I had a hearty serving of this delicious red velvet cake; and a Lungo Forte Nespresso – that's a medium intensity coffee brewed from special capsules containing ground coffee and made by a Nestlé Espresso machine.
Overall, it was a quiet, comfortable and another unforgettable meal. I don't have any doubts why Melo's is considered one of the Philippine's best restaurants.
Melo's: The Home of Certified Angus Beef has branches in Burgos Circle, Makati, Quezon City and above in Westgate, Alabang.