If you're hungry for a Sunday brunch buffet and could spare P2,000 for it, then I suggest you go to Marriott Cafe of the Marriott Hotel Manila.
From 11:30 am up until 3:00 pm, you'll be able to enjoy one of the best buffets in Metro Manila you'll ever have… believe me 'coz I was there a few Sundays ago.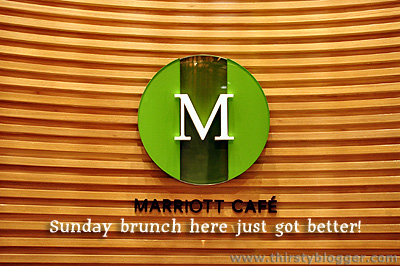 Before I go on… I must say that the photos of food that I'm going to share with you today is but a tiny peek of the dishes which you can enjoy there.
Sorry for that… it's just I decided to put down my camera sometime during the buffet, to make my other hand free to carry another plate. 😛
Anyway, when I said it's a Bloody Mary Buffet, I mean it – literally and figuratively.
I ordered this from their bar, feel free to order anything you want there. Cosmopolitans and martinis were the favorite there.
I got a tour of the whole place with other invited bloggers that day, courtesy of Marriott Cafe's executive chef Meik Bremmer.
I must say the place is huge, and filled with food that can surely satisfy any craving.
They have Japanese, Chinese, American, Italian, Indian and Filipino dishes there, maybe even more as I was really overwhelmed with all the available choices.
Hungry for steaks? Go to the CRU Steak House section. Craving for pasta? Go to the Antonio's section.
Craving for cold cuts? Go to the Gourmet Salumiere section. Feeling cheesy? Go to the Cheese Studio. Want some prime ribs or lechon? The Carvery is there.
Me, I spent a good part of the day ordering from the Yakitori section, and at the Oyster Bar.
What about dessert? Well, there's ice cream and a Chocolate room where you can eat all types of chocolate, from cookies to cakes to brownies.
Me, I ate a whole bunch of their chocolate tablets, the white ones with pistachio are my favorite!
I know what you're thinking, and the answer is YES… I have a big and strong stomach – a skill I acquired from college. 😛
In any case, I must again say that the food you see above – it's just like 24% of what you can actually enjoy in Marriott Café's Sunday Brunch.
So go and visit them at 10 Newport Boulevard, Newport City Complex, Pasay City. For inquiries or reservations, just call them at 988-9999.