During my tour of South Cotabato last year, one of our stopovers was Blue Haven Resort and Durian Park in Barangay Liwanay, Banga.
We were scheduled to have our breakfast there and while me and my friends were waiting for the food to be served, I decided to go around the place and explore the resort.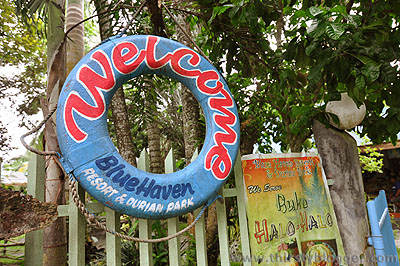 The place is big, I must day, and looks like a very restful place to spend the weekend.
This is their resort pool, which was being cleaned at that time… too bad because a dip would have been great.
But all that didn't matter when I discovered that they have a pet civet in the resort.
Locally called Musang or Alamid – the Asian Palm Civet is the cat that's responsible for one of the world's most expensive and low-production varieties of coffee – the Kopi Luwak.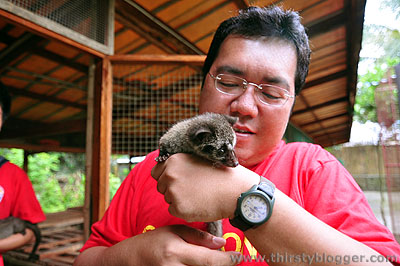 "Kuya", the resort staff, was cleaning its cage habitat and was generous enough to allow me hold and cradle the civet cat in my arms.
Civets mostly eat berries and pulpy fruits. And when they're fed coffee berries, its stomach enzymes seep into the beans and passes them out later on.
The result?
Coffee beans that brew to a more aromatic blend with much less bitterness. No wonder it's one of the most sought after variety of coffee in the world (if you can get over the fact how it's produced :-P)
Anyway, meeting a live civet was a truly interesting experience.
And now, I can honestly tell friends that I've actually held one – specially when one of them orders civet coffee in a cafe.