The reason why I love having a camera phone is because it allows you to capture precious candid moments with friends like this one time when blogger friend Myk secretly married a drink at Chaikofi Xpresso in MOA.
While most of us in his company just ordered the usual tea or coffee, he was daring enough to try and marry the Blushing Bride.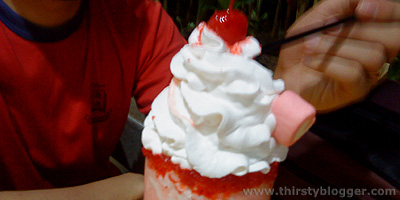 Here are some of the "wedding pictures".
Getting a little taste of your bride, Myk?
They're obviously a happy couple that night.
And just in case you're wondering, the Blushing Bride is really an ice blended drink with a mix of strawberry, almond, milk tea and vanilla ice cream. It's topped with whipped cream, a cherry and that marshmallow heart. 😛
Chaikofi Xpresso prides itself as The Concept Cafe. Learn more about them in their official website here.