Last weekend, I had the opportunity to try this newly opened "pamper place" in Greenhills called Organic Rituals. Quite a homey place I should say – very relaxing and private.
While waiting for my treatment to start, I decided to get some tea. And during that time, they were serving this lemon ginger tea which you have to "make yourself".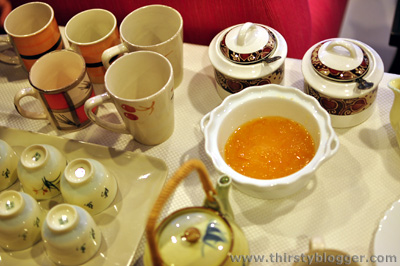 You spoon some of that yellow jam-like syrup into your cup and pour hot water over it and voila! A calming and zesty lemon ginger tea.
While talking to the owner and the staff of Organic Rituals, I learned that they also offer a variety of services beyond the usual nail and body treatments.
There's the "Before The Big Day" package where they, along with a nutritionist, will get you into a program that will help you detox, lose weight and "beautify" for your wedding (or birthday, or whatever occasion).
They also offer SPArties, a private spa-party for you and your friends to enjoy several hours of pampering.
Organic Rituals is located at the Mezzanine Floor, Atlanta Center, 31 Annapolis St. in Greenhills. They are open from 11:00 AM until 9:00 PM.
To learn more about their services, you can call their telephone number at 661-3101.