Looking for a great place to eat in Cebu? Then you should definitely go to Casa Verde. They have three branches already and I was able to visit the one along Ramos St.
Lunch time is always busy in Casa Verde, so be sure to go early or just have a late lunch.
The place is very homey and the staff are friendly and accommodating. The food is tasty and very, very affordable.
Just look at Brian's Ribs below, a humongous treat for less than P200. Believe me when I say it's big enough for two people with normal appetite.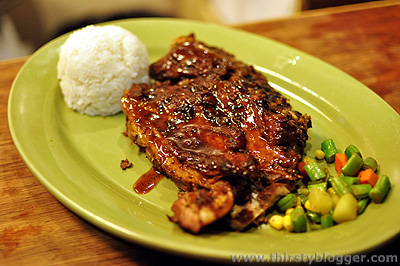 But enough talking about the food and the place – what I'm really here to talk about is their home-brewed iced teas – the Raspberry Iced Tea and the one I ordered, the Panama Orange Iced Tea.
You can order by the glass or by the pitcher, it's just too bad they don't offer it as a refillable drink. But in any case, it's really worth your money.
Notice how the iced tea's color is darker in the pitcher? That's because the real secret, I believe, in enjoying this drink is having lots of ice in your glass.
Not only will that allow you to drink more, but the dilution of the iced tea is essential in achieving the refreshing taste of the iced tea – a semi-sweet drink with a hint orange flavor that really went along well with my baby back ribs.
Casa Verde's two other branches are in The Walk at IT Park, Cebu and along The Terraces at Ayala Center, Cebu. You can also read more about Casa Verde Cebu here.
Can't go to Cebu? Here's a hint: Go to Starbucks, order their Basic Black Iced Tea and add Valencia Syrup. That's the closest thing you'll get to the Panama Orange Iced Tea.