If you're going to Tacloban, one place you must really visit is Rafael's Farm in Babatngon, Leyte. I could say that it's not only a great place to eat, but also a very relaxing hang out.
I was told that many people hold their pre-nuptials there, as well as their wedding reception. I don't wonder why because the venue is peaceful and inviting.
On my last Leyte vacation, I got the chance to visit Rafael's Farm for lunch courtesy of Leyte Gulf Travel and Tours. Along with other guests, they served us some of the best dishes in Rafael's Farm.
That's the Farmer's Salad and below is the Classic Baby Back Ribs.
But my favorite would have to be the Baked Scallops!
And the Kinilaw!
And I drowned all these food with a pitcher of their signature Refreshing Lemon Lime drink:
It's basically a lemon, lime, carrot, cucumber and turnip punch but without the alcohol. It tastes like calamansi juice – but there's a certain quality to it that makes it really refreshing to drink.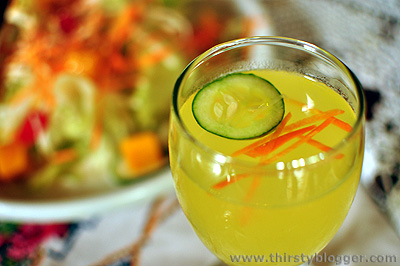 After our lunch, we spent some time going around the place and taking photos of the many interesting things you can find in Rafael's Farm – like this carabao grazing under a tree. 🙂
So that's Rafael's Farm for you. I highly encourage you to visit the place if ever you find yourself in Leyte.