I was out with my friends from the gym last night and we decided to have dinner right after our work out. Interestingly, we ordered different variants of Coca Cola for our beverage.
And that's when it hit me, it's a good time for a Coke face off! The contestants – regular Coke, Coke Light and the newest Coca Cola variant, Coke Zero.
Regular Coke is the variant we all probably grew up with. It's main ingredients are carbonated water, sugar, caffeine and other "super secret" stuff. Moreover, a can of regular Coke will give you 138 calories and 34.5 grams of carbohydrates.
Now for those who are conscious about their calorie intake, regular Coke is obviously not your best choice. 138 calories is a good 45 minutes or so on the treadmill in my experience. However, if you do like the taste of the classic, then I'm not stopping you from getting the regular variant.
My order was actually the Coke Light. This is actually my preferred variant of Coca Cola and it's been this one for more than a couple of years now. Why? Well, first have a look at the nutritional information.
Everything is zero. No calories, no carbohydrates. How great is that?! Well, I actually know a lot of people who doesn't like Coke Light because it tastes bland.
And I agree, I remember it tasted that way for me too back then. But the taste has grown on me over time and that's why I actually find regular Coke "too sweet" for me now.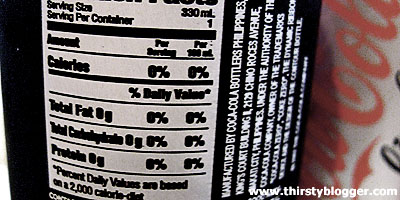 Lastly, the newest variant I know of Coca Cola – Coke Zero. This one is like a combination of the first two variants – it tastes like regular Coke, but without the "guilt". Look at the photo above and you'll see that it lives up to its name… zero.
Now since I don't like the taste of regular Coke anymore, it's not surprising that I don't care much for Coke Zero as well. But for someone who's counting calories but prefers the original taste of Coca Cola, then Coke Zero could be the best one for you.
And that concludes our Coke face off for today. Not much competition among them I think – all catering to different types of Coca Cola drinkers.
How about you? Which one do you prefer?