Coming to Cagayan de Oro for the first time, I was able to witness another first – the opening of the first branch of Starbucks in Mindanao which is located at the corner of Limketkai Ave and Rosario Crescent in CDO.
Many Cagayanons are proud to have the "first Starbucks in Mindanao" – beating Davao by months who will have their first branch in Abreeza Mall, hopefully by mid-2011.
As for me, I can't help but feel a bit sad – because whenever I go to other cities in the country, one of the first things I do is ask what are the good local coffee shops in town.
And with Starbucks starting to sprout in major cities in other regions, I'm a bit worried that home-grown cafes would not be able to keep up with this global brand.
Anyway, I hope you could forgive me for the skewed angles of my photos. I was told by the security guard on duty that they do not allow people to take pictures of the place – yeah, seriously. 🙁
Good thing my ultra wide angle lens was with me that night, so I was able to take a few pictures while sitting down and without the guard noticing. 😛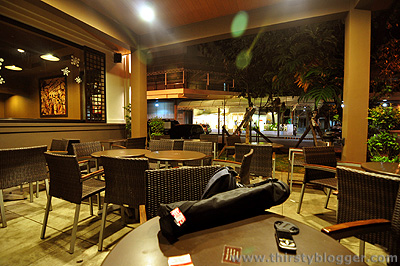 This Starbucks doesn't have WiFi, and if it did, I'm expecting that it will not be free (like in most Starbucks branches in Metro Manila).
I don't know their future plans but I find it amusing that this branch is surrounded by restaurants and other coffee shops who offer absolutely free WiFi (i.e., Missy Bonbon, Bo's Coffee, etc.)
Moreover, another interesting fact about this branch is that, the smoking area is limited to one side of the store al fresco (right side if you're facing the entrance).
According to one of the staff, because they only have a few seats inside, they've decided to make the left outside tables a non-smoking area.
That night, I ordered a Coffee Frappuccino Lite, but still with whipped cream and blended in. I was surprised to see a charge of "add whip" on my receipt.
The "Lite" drinks of Starbucks have less calories, fat and carbohydrates than the original recipe. Ordering this, it is assumed that you're "on a diet" and would not want the whipped cream as well.
However, you may still request to have the whipped cream and in my case, have it blended in. A request that I have done countless times at many Starbucks branches in Metro Manila and without getting charged a single time for it.
First the "no picture taking policy" and now this. Oh well…
I was not really in the mood to argue over anything that night so I just let myself be charged after the branch manager told me that it was what she knew. 🙁
So, I went back to my table, where my friend awaits, and we watched Cagayanons line up for their first taste of Starbucks at home.
—
On a side note, I find it amusing that in Metro Manila, the young urban population is now busy trying be the first among their friends to get a Starbucks Planner 2011.
For the people of CDO, it seems that they don't really care much about getting the planner, as based on what I've seen.
In fact, many of them just took a quick close look of the "sticker card booklet" and then left it on the table when they went home. 😛
—
Anyway, I guess that's it for this entry on my "Starbucks experience" in Cagayan de Oro.
In a few hours, I'll be flying back to Manila – the city where "whipped creams" on lite frappuccinos are free and the Starbucks planner is a status symbol. 😛