Last October, I went to Bacolod to attend the MassKara Festival 2010 (see some of my photos here). But also, for me – a trip to Bacolod also means a chance to visit the Talisay Ruins.
The Talisay Ruins is the ancestral home of Jayvee, a blogger friend of mine. It's an enchanting place of history and of course, a perfect place for a jumpshot photo!
Making this jumpshot photo was actually not easy. It was hot and I was doing it alone… imagine me clicking my camera for the timer to start and then running and jumping at just the right moment!
Good thing that inside, there's a cafe where you can eat and buy some refreshments. That day, aside from the mineral water, the only other drink they have available are Sola Iced Teas.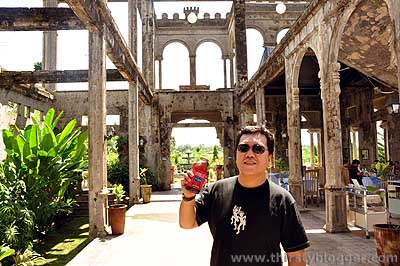 My choices were only between the Lemon or the Raspberry. I wish they had the Peach or the Orange though. But in any case, I bought for myself an ice-cold Sola Iced Tea Raspberry. Thanks to "Manong guide" for taking a picture of me. 😀
If you want to learn more about the Talisay Ruins, then read all about it from Jayvee himself. He's got some wonderful photos of the place too! Read it here.