I've already featured and given here the benefits of coconut sugar. And now it's time to see how it fares against the taste of other types of sugar.
So I did a simple experiment and brewed myself a pot of coffee, then asked a friend to put two packets of Coco Natura on one cup, two sachets of Splenda in the other, and lastly, two teaspoons of refined white sugar on the third. The objective is for me to choose which cup would appeal to me best.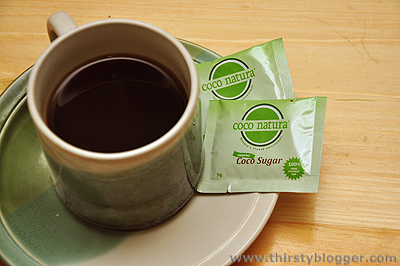 Personally, I like my coffee sweet, but not too sweet – just enough to overpower the bitterness of the coffee. So I'm really curious how this experiment would go.
Coffee with white sugar – this was the first cup I got to taste and I didn't like it. It's sweet but it's not enough for my preference – which is expected as I normally put three teaspoons of white sugar in my cup of coffee.
Coffee with Splenda – this was the second cup that was handed to me and I liked it – which is again not surprising because this is exactly how I take my coffee when I'm using the artificial sweetener.
Coffee with coconut sugar – the last cup I tasted, which I find quite good. I immediately knew this was the cup with Coco Natura because it tasted like brown sugar but without the strong caramel aftertaste which I don't like with brown sugar.
I must say, Coco Natura can satisfy my sweetness preference in coffee. And for someone who's been using artificial sweeteners for many years, I'm actually excited to discover a natural sweetener that offers a healthier alternative.
If you'd like to learn more about coconut sugar, then you can visit >the website of Coco Natura here.