Madrigal Avenue in Alabang is slowly but surely becoming commercial. With Puregold already open in the area, along with the "JFC food quartet" (Jollibee, Chowking, Red Ribbon and Mang Inasal) – this place will surely be a dining destination for the hungry Metro South people.
And situated along the side of Molito building, facing the vast parking lot at the back is a bistro called Wooden Horse Steakhouse.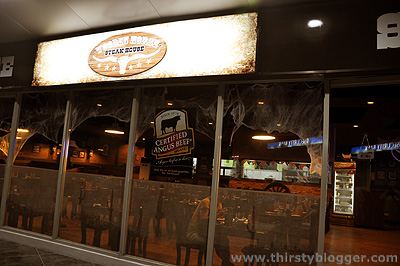 The place is fairly new that's why even if it was dinner time, the restaurant was almost empty. But I'm sure this will change soon.
Why? Because the place is very affordable, the servings are above average and the customer service is great. I dined with a friend and our bill was only around P600. We ordered soup, grilled chicken, burger steak and two bottomless iced teas.
Speaking of the iced tea – for only P50, you'll get a bottomless home brew peach iced tea. I loved it! The taste is similar to the peach-flavored Sola Iced Tea, not too sweet and very refreshing.
What no photos of the food?! Well, if you insist, then why not just visit these two blog posts I found who also loved dining at Wooden Horse Steakhouse.